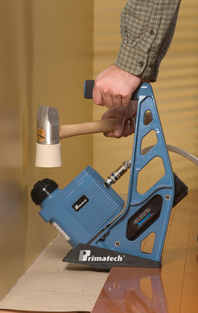 Fitting Methods
Pine Strip supply & fit a large range of top quality solid, semi-solid / engineered and laminate floors at very competetive prices. We can bring samples to your home where you can match what you like to your room. We also supply unfinished timber floors which leaves you the option to finish the floor at a later date. Depending on the type of the existing floor and available budget in your house or commercial area, we will recommend to you the best installation methods.
The 3 main methods we use:
Nail Down
Secret nails are used with a wood flooring nailer and mallet to attach the flooring to the subfloor.
Glue Down
Engineered wood floors and parquets can be glued down. This is when you spread the recommended glue all over the subfloor and lay the flooring into the glue.
Floating
This is when a thin underlay is placed between the wood flooring and the subfloor. A recommended wood glue is then applied into the 'tongue & groove' of each of the planks and the timbers are fitted together.
Fit Only Service
Pinestrip can also provide a 'fit only' service if you would prefer to source timber yourself. This is not a problem.
Commercial And Insurance Customers
Natural wooden flooring is the floor covering of choice for many style-conscious stores, bars, offices and restaurants. Using the right finishing materials will result in a beautiful yet durable floor which will add to the overall ambience of your surroundings. We will work with you to your exacting criteria. For instance, we work flexible hours meaning our craftsmen can renovate your floor outside of business hours.
Our Dust Free Technology captures the dust generated by sanding on the spot. That means you're back in business ASAP because your merchandise and showcase areas don't need to be covered before sanding or cleaned afterwards.
We pride ourselves on being responsive, hard working and delivering to extremely high standards. If you would like to discuss your floor renovation project with us please just call 07885 213585 or e-mail:kenny@pinestrip.co.uk