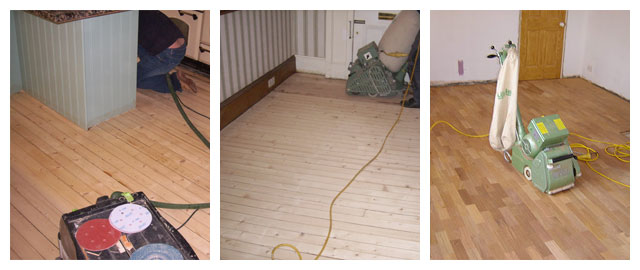 For dust free sanding
Wood floor sanding is a stage of the wood floor restoration process that relates to the preparation of the floors. Sanding removes the protective layer be it varnish, oils or wax and makes their surface smooth, clean and flat. New boards or parquet blocks may need be re-fitted so as to repair existing problems or entirely replaced if parts of the floor have been damaged due to moisture or simply excessively aged or warped.
Dust-Free Pine Strip Floor Sanding is the Solution
Sanding floors is a dusty tiring business. Pine Strip has changed that. The first process is a patented dust intake system. This attaches right to the sander, sucking up dust before it has a chance to escape into the air. The second is our unique sanding abrasive. Unlike traditional abrasives, the dust that's generated is finer and therefore much easier to manage. With Pine Strip dust doesn't have a chance. No hours of cleaning up afterwards. Pine Strip captures the dust generated on the spot, meaning your curtains, and furniture don't need to be covered before sanding or cleaned afterwards. Microscopic particles of dust generated by sanding can remain in the room days after you've had your floor sanded. Apart from the mess, these particles can cause irritation and allergic reactions in some people, especially those with respiratory problems or asthma. Why take chances when you now have the option of Pine Strip dust free sanding?
All contemporary floor sanders come equipped with a dust capturing bags, which reduces by a large percentage the dust released in the air. However, the floor sander is just part of the equipment used during the floor finishing process. Usually a larger amount of dust is released during the buffing of the floors and some dust is also left uncaptured from the smaller tools used for finishing corners and difficult to reach areas.
Dust Free - Is It Really Possible?
Yes, and we have the solution. Our Dust Free Service is available to areas for floor restoration larger than 20sqm. Our innovative solution uses a powerful extraction unit which allows a cleaner and faster sanding. The dust extracted from the surface is collected which prevents the escape of dust into the working environment. The extractors linked to our machinery will leave literaly no dust at all in your fingers, if you touch the floors, just after the refinishing.
Please contact us on: 07885213585 or e-mail: kenny@pinestrip.co.uk for expert advice or request a quote online